What Families Are Saying
These are honest comments from actual families based on their firsthand experience with La Petite Academy. Want an even broader overview of the La Petite Academy experience? Visit independent websites like Google and
Yelp
, where many families share their thoughts on every aspect of La Petite Academy.
"Our daughter started going to La Petite when she was 3 years old. It's nearly three years later and I wouldn't have her go anywhere else. The teachers obviously love what they do and care about the children. They have a wonderful curriculum. If it wasn't for La Petite, I don't think she would have been so well prepared for Kindergarten. It's a warm and friendly environment. Several parents we have talked to in the Schaumburg area have moved their kids to this school because it is that good. Don't miss out! "
Jason
Schaumburg, IL
"My son has been attending La Petite in Schaumburg since he was 10 weeks old. He absolutely loves it here and we are very pleased with all of our experiences! He gets excited about going to school and he loves playing and learning with his classmates and teachers. We have had great experiences with all of his teachers. His current teachers, Lori and Jessica, are wonderful. They really care about the students and are so helpful and friendly. We wouldn't want our son to go anywhere else and we always recommend LPA and tell everyone how great it is! "
Kari
Schaumburg, IL
"My son attends La Petite Schaumburg and it is the best decision I've made for child care. He has been going there since he was six months old and he is now two years old. He is so smart. The teachers here are amazing and the directors are phenomenal! I tell all of my friends with children, if they are looking for a daycare, take their children here!"
Natalie
Schaumburg, IL
"My son and daughter both attend LPA and we couldn't be happier. From the staff to the curriculum to the focus on nutrition, we are very pleased with every phase of the care our children receive. We started at a different facility, which we could tell fairly quickly wasn't giving our kids what they needed. The change in the kids' attitude upon going to LPA was remarkable. We feel very fortunate to have such an excellent option in the Schaumburg area."
Don and Jennifer
Schaumburg, IL
"My daughter joined La Petite almost ten months ago. She was 18 months old at the time and since we've started here, I have felt like it was one of the best decisions I have ever made in my daughter's life. The teachers and management team are so wonderful, thoughtful and caring. It is obvious they take a genuine interest in each child attending. She has learned so much since starting and I am able to go to work each day knowing she is in great care."
Lorriane
Schaumburg, IL
"My son has been attending since he was three months old and we are very pleased with the care and how wonderful the teachers and staff are - well worth the cost and we know he loves it here because he's smiling every day."
Beth S
Schaumburg, IL
"Our daughter has been attending La Petite in Schaumburg for 10 months. Being with other children has helped her develop both socially and physically. The staff is excellent and show genuine interest and care toward the children."
Clay
Schaumburg, IL
"My daughter has attended this La Petite since she was three months old. We absolutely LOVE it here! The staff is fantastic, the curriculum is awesome, and she gets top notch care while she is here. I am so grateful we have been able to have our daughter in such a wonderful center!"
Whitney
Schaumburg, IL
"My three-year-old son and one-year-old daughter have both been at this La Petite since they were 12 weeks old! My husband and I could not have better partners in caring for our children. The entire staff takes an active role in getting to know my children and helping them grow and learn. What I love most is that they understand the individual needs of each of my children and all the other children they care for! Highly recommend."
Amalia
Schaumburg, IL
"Excellent daycare! My one-year-old and three-year-old go here and I've been using them since my three-year-old was an infant. I love this place! They have smaller class sizes and the teachers are wonderful. I would recommend them to anyone."
Pawee
Schaumburg, IL
"The staff at La Petite Academy Schaumburg has been great to our two children. The staff is always willing to listen and has always worked with us in the development of our children."
Adam H
Schaumburg, IL
"Our son has attended La Petite Academy for the last 2 1/2 years and we're extremely satisfied with the overall quality of the child care, education, and social setting provided to our now five-year-old son. Another important aspect is the importance they put on safety for our child. When entering or leaving the facility, we must use PIN codes to enter the door and to sign-in or sign-out our child. Also, if any accidents, such as my child falling down on the playground, happened during the day, the staff is always upfront to let us know what occurred and what treatment was given."
Andy M
Schaumburg, IL
Read Reviews from Others
or Share Your Own!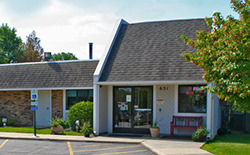 Pay Online
Pay your child's tuition through our online payment system.
Go Now
Like us on Facebook
Great things are happening
at our school.
Check it Out