Positive Behavior Support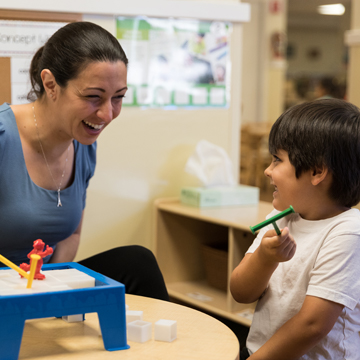 If you're a parent, you're familiar with challenging behavior. You might have experienced defiance or aggression or hurtful words. Most of the time, this behavior is the result of a child having not yet developed the social, emotional, language, and cognitive skills to behave in more positive ways. But challenging behavior and positive behavior are on two sides of the same coin!
As early childhood educators, we aim to create positive learning opportunities from challenging behavior. It's our job to teach children positive way to deal with challenges. Our classroom environment and daily routine are designed to be both engaging and age appropriate for the children in each classroom.

This approach is referred to as Positive Behavior Support. At La Petite Academy, we have many tools available to reinforce positive behavior support, such as our myPath app. This proprietary application was specifically designed to empower our teachers to address challenging behaviors and facilitate a positive learning environment.


What sort of support does myPath offer?
myPath strategies are age-appropriate ideas for teaching social, emotional, cognitive, and language skills that aid children to behave in positive ways.
myPath is built on the most current and trusted research into the social-emotional development of children.
myPath enables teachers to learn specific, targeted strategies that directly address a child's particular behavioral and developmental need.
myPath offers novel, innovative strategies that encourage positive behaviors throughout each time of the day.