What Families Are Saying
These are honest comments from actual families based on their firsthand experience with La Petite Academy. Want an even broader overview of the La Petite Academy experience? Visit independent websites like Google and
Yelp
, where many families share their thoughts on every aspect of La Petite Academy.
"This school is made by the high caliber of teachers currently employed. A school can offer any variety of incentive, but without good staff, it doesn't matter. The teachers and staff here are caring, patient, involved and are able to creatively teach social and academic skills."
Vicki B
Overland Park, KS
"We love La Petite because the teachers are all so nice. We love all our friends that we've made. Lilly gets to do so many fun things and we feel very safe."
Jessica L
Overland Park, KS
"Since my son Nick joined La Petite, his communication skills have improved a great deal. He is learning new things every day. Joining La Petite was the right decision for us and our son."
Gus V
Overland Park, KS
"All of the teachers/staff here have been wonderful - it makes us happy and comfortable each day to know he is with, in a way, extended family. Beyond that, we've gotten a sense of our boy's growth over the past 3 years in all aspects, from social, academic fundamentals and physical skillsets - all of which are due in part to the great work they do at La Petite. He's made a number of good friends here and we know he'll enter school with a love of learning and class interaction that comes from his experiences at La Petite. We couldn't have asked for anything more."
Shane W
Overland Park, KS
"Our daughter has been in attendance at La Petite Academy for almost two years now. The staff at La Petite Academy is absolutely outstanding. They keep the parents engaged in the children's daily activities and have functions and extra activities for parents and children. We've made personal bonds with many of the staff and faculty at La Petite as well, and though it is their job, you can tell that the staff truly cares about the well-being and education of our child. I would absolutely recommend this institution to anyone."
Rachel & Ryan W
Overland Park, KS
"We've been part of the La Petite "family" since 2007 and have been with the Antioch LPA since May, 2009. We love the school and the staff but most importantly, our kids love it there. When I drop my youngest two off here every morning, I can leave for the day comfortable knowing they are around teachers who love them and truly care about them. In addition to the great staff and wonderful management, we chose Antioch LPA for its curriculum and the fact that extra-curricular courses are offered - such as Spanish, music and even sports like soccer and karate."
Andrea P
Overland Park, KS
"We love La Petite. The staff and teachers are fantastic and make this school exceptional. Stability, continuity, genuine compassion and love of children, attention to detail, willingness to get down on the floor with the kids and make it fun - all things that these teachers do to make my kids LOVE going to school each day. I highly recommend this school."
Shana P
Overland Park, KS
"I would recommend this location to any of my friends and family! I really have witnessed my child strive! She's now 3 years old, and has gone here since she was 1 1/2. She absolutely loves the curriculum as well as her classmates and teachers! She comes home every day with a new song about washing hands, being friends, and most recently about the colors of the stop lights! Her teachers that she's had past and present have all been really hands on and one on one. All the teachers know every child by name, even not being in that particular class! It warms my heart to know that just as much as my child loves coming every day, the teachers look forward to her being there!"
Ashley T
Overland Park, KS
"Our son started going to La Petite Academy on Antioch part time. When we had our first tour, my wife and I both liked the location, management team, and teachers in the toddler class (Ms. Valerie and Ms. Angela). Our son was very comfortable and at ease. He likes his school, especially his teachers. Our son has learned a lot since he stared going to La Petite. His teachers have great communication skills and report all his activities and development. We feel very comfortable that our son is being well cared at La Petite. We have recommended this location of La Petite to our friends and will certainly recommend it to anyone. Thank you, La Petite!"
Ali A
Overland Park, KS
Read Reviews from Others
or Share Your Own!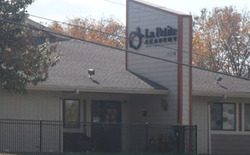 Pay Online
Pay your child's tuition through our online payment system.
Go Now
Like us on Facebook
Great things are happening
at our school.
Check it Out