Technology Resources for Busy Families
Discover Great Connections With Our Mobile App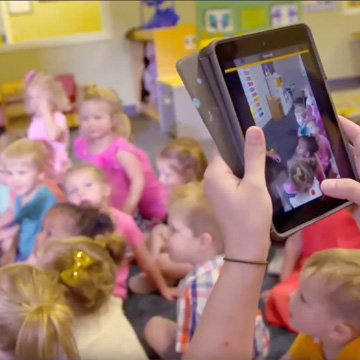 While your child is at our school, you don't need to miss a single precious moment. Get real-time updates, photos, and videos of every precious moment through our mobile app for parents.
We've partnered with brightwheel to provide you:
Voice-to-text (teachers spend less time on tablets to have more one-on-one time with children)
Kudos: Teachers have the ability to quickly share out "wow" moments
Photos and videos
Milestone and learning updates from your child's teacher
And it's easy to share your favorite memories:
Retrieve favorite memories by scrolling back through your feed
Let others in on the action: grant access to grandparents, friends, etc.
Send along photos through text messages, emails, and social media
Your updates will always be private, visible just to you and any of your chosen recipients. We're committed to providing security for communications.
Family Link: Making Your Life Simpler
Family Link is our exclusive, user-friendly online resource to manage personal information and financial commitments. With Family Link, you can quickly and easily:
Make payments online.
Set up automatic payments.
View your statements.
Verify and update your family information.
Update your financial information.
Read news and announcements.
Get connected today. Ask your school director for details.