Glen Carbon, IL Daycare
2 Auerbach Place, Glen Carbon, IL 62034
Glen Carbon La Petite Academy
Thank you for visiting La Petite Academy educational daycare in Glen Carbon, IL! My name is Michele and I am the Director. I have a bachelor's of arts degree from Eastern Illinois University as well as twenty years of experience as a teacher and manager.
Our educational child care - including
daycare for infants
,
preschool programs
and more - is nationally accredited by NECPA (National Early Childhood Program Accreditation). We received the award in April of 2010 and we continue to meet the needs of accreditation standards. We have also been awarded a star level three with the Quality Rating System in Illinois. The standards that we follow are higher than the State of Illinois' Child Daycare Licensing Standards.
I am passionate about early childhood education and truly want the best experience for all of our children, parents, and teachers. I strive to create a warm and welcoming environment and maintain an open-door policy for anyone who would like to talk.
We are fortunate to have an outstanding staff here in Glen Carbon that is dedicated to our children and families. All of our lead teachers have education-related degrees, and more than half of our staff have at least ten years teaching experience. Ongoing training is provided for all staff members including monthly staff meetings. Our staff is typically at 100% training in CPR and first aid certification, too.
We value the relationships we have with our families and work hard to involve them. We offer a number of opportunities for our parents to volunteer in the classroom and on field trips as well as monthly events, including our Game Night, Family Wellness Event, and Parents' Night Out.
I strive every day for a quality facility for children to learn and grow while having fun. I have found my niche and couldn't imagine being anywhere else.
Schedule a tour of our amazing La Petite Academy educational daycare in Glen Carbon, IL today!
We are accredited by
To be accredited by a nationally recognized organization, a school must promote established "best practices" in the social, emotional, physical, language and cognitive development of children.
A Day In The Life Of Our Students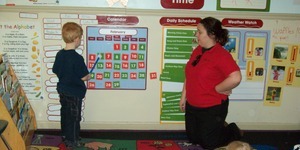 Learn more about how the highly trained teachers of La Petite Academy instill the critical-thinking, social and emotional skills every child needs to succeed in Kindergarten and beyond. All in a safe, nurturing environment.