Madison, AL Daycare
103 West Dublin Drive, Madison, AL 35758
Welcome to La Petite Academy in Madison, AL
Greetings to all!
My name is Yashica Idrell and I am the Academy Director of this phenomenal La Petite Academy educational daycare and
preschool in Madison
, AL. I have a bachelor's of science degree in Early Childhood Education and a master's of arts degree in Education. I have over 16 years of experience working with children. Within my 16 years, I was a teacher and center manager, working hand-in-hand with parents. It is very important that I make each family feel at home in our school. I work diligently with parents ensuring their needs are being met on a day-to-day basis.
It is my goal to create a warm and loving environment for our children that fosters learning while they grow physically, emotionally and intellectually. We maintain an open door policy where parents can come and witness learning taking placing from our
infant
and
preschool
rooms, to our pre-K class. Our children are always engaged in age-appropriate activities where they are exploring innovative concepts. Here at La Petite, it is our goal to make your child's educational experience both fun and enjoyable while learning new things.
Our teachers work hard to make sure our children are actively learning throughout the day. We plan weekly lessons and themes that encourage and challenge children to stimulate their minds. We also have many fun opportunities for the children to become involved in their classrooms; from daily jobs, to student of the week, and sharing days. You will be amazed at all the new and exciting things your child will come home talking about.
Our entire staff are certified in CPR and first aid. The staff continually work to expand its early child development education through regular training and attending school.
If you are looking for a great family based daycare and
preschool
which focuses on literacy, mathematics, creative arts, science, language and physical development in Madison, Alabama, then call our La Petite Academy today to schedule a tour or stop by at your earliest convenience!
A Day In The Life Of Our Students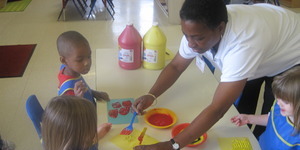 Learn more about how the highly trained teachers of La Petite Academy instill the critical-thinking, social and emotional skills every child needs to succeed in Kindergarten and beyond. All in a safe, nurturing environment.