Fitchburg, WI Daycare
5574 Lacy Road, Fitchburg, WI 53711
Welcome to La Petite Academy of Fitchburg, WI!
Welcome! My name is Sheila and I am the Academy Director of this wonderful La Petite Academy educational daycare in Fitchburg, WI. I have worked in the early childhood education industry for 22 years, and prior to that, I was a nurse for 14 years in various settings, including pediatrics. I have an administrator's credential and a family service credential, along with many courses in early childhood.
Drawing from this experience and education, I can confidently say La Petite Academy offers the best
infant daycare
and
private preschool
in Fitchburg, WI.
It is my passion to work with children and their families. The entire staff understand the importance of a quality educational program during the early learning years. We deliver that program in a clean, healthy and loving environment.
We have a diverse group of teachers here in Fitchburg with various backgrounds in early education. The entire staff is certified in CPR and first aid, and has shaken baby syndrome and SIDS training. All staff members meet the state requirements for continuing education in early childhood each year.
Open communication throughout the facility is very important to me. I encourage parents to feel free to stop by the office at any time to discuss their child's education and care here, as well as just to chat to get to know each other better. Teachers also promote open communication by having personal discussions with each parent every day during drop-off and pick-up time. This gives you the opportunity to ask questions about how your child's day has been as well as get to know the staff and how each teachers run their classrooms.
Each month we have parent opportunities to join in activities. A monthly calendar of events will be put out so that you can plan your calendar accordingly.
Call us today to set up a time for your personal tour of our La Petite Academy educational daycare in Fitchburg, WI today!
A Day In The Life Of Our Students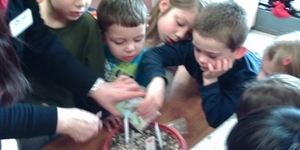 Learn more about how the highly trained teachers of La Petite Academy instill the critical-thinking, social and emotional skills every child needs to succeed in Kindergarten and beyond. All in a safe, nurturing environment.