Available Early Childhood Education Programs
Child Care Programs and Curriculum in Albuquerque, NM
The educational child care programs in our School Readiness Pathway were designed to offer a comprehensive path to prepare your child for elementary school. The School Readiness Pathway features developmentally appropriate programs with specialized curriculum for a variety of ages. Find the right path for your child here.
Private Kindergarten
As the culmination of our School Readiness Pathway, Private Kindergarten prepares your child for future academic success.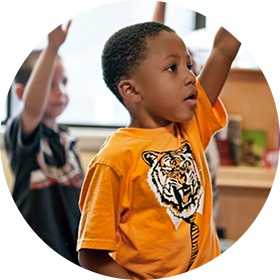 A small class with big opportunities.
We offer award-winning national programs in literacy, math, and handwriting. Physical education, fine arts, social studies, and science and nature are also explored, while we work closely with your child to meet important social-emotional development objectives.
Please note: All students must meet your state's kindergarten entry-age requirement to enroll. Please contact your local school for further details.
Learn more about our Private Kindergarten program and curriculum.
Elementary (Grades 1 - 5)
This is a unique opportunity for children to learn from experienced, energetic teachers well-versed in elementary education.
Continue with La Petite and find new opportunities.
Our school is accredited by the North Central Association, while our curriculum for elementary-aged children is molded from the New Mexico State Standards and Benchmarks. We offer comprehensive programs in languages arts, math, science, and social studies, plus specialty classes in physical education, art, Spanish, and computers and technology. Plus, the teacher-student ratio of 1:15 allows for individualized attention and instruction for all students.
Please contact our school for further details.
You might also be interested in:
We're here before and after school, as well as during school breaks and all summer long. Whether you're seeking a great start or finish to your child's school day, need some additional help during holidays, or want to broaden your child's educational experience, you'll want to consider these additional offerings.
Before and After School
Experience a great start and finish to every school day.
We offer school-age students an involving experience in the morning and afternoons.
Mixing independent and organized activities, education and recreation, our Before- and After-School Clubs focus on daily goal setting, team building, homework support, community projects, and self-reflection. Students experience:
Structured, supportive environment for studying
Team-building and self-reflection activities
Healthy breakfasts and snacks
We also offer additional opportunities for school-age students during school breaks, holidays, and summer vacation. And we may offer transportation to and from your elementary school. Ask your school director for additional details.
Learn more about Before- and After-school Programs.
Elective Programs
Extracurricular classes enhance each child's learning experience.
Elective programs allow children to learn while playing and exploring creative outlets.
Programs for younger and older children not only enrich your child's school experience, but also give you more free time on nights and weekends. Enjoy programs such as:
Spotlight on Spanish: Learn conversational Spanish through stories, songs, and games
Grow Fit® Yoga: Develop a healthy body and mind in a fun, creative
Additional opportunities may include:
Gymnastics (tumbling)
Languages
Computers
Music appreciation and education
Note: Some programs dependent on minimum enrollment requirements. See school for details.
Learn more about Elective Programs.
Pay Online
Pay your child's tuition through our online payment system.
Go Now
Like us on Facebook
Great things are happening
at our school.
Check it Out