Wichita, KS Daycare
431 N Waco, Wichita, KS 67202
Welcome to La Petite Academy of Downtown Wichita!
Welcome to the La Petite Academy educational daycare in Wichita, KS! Located conveniently at Central and Waco, we are close to Via Christi and Wesley hospitals, Friends and Newman Universities, the Delano district, and of course, downtown. We have an incredible
preschool program
at the school, and I would love to talk with you about it!
My name is Erin Powell and I am the Academy Director. I have an associate's degree in early childhood education and I am going back to college in the spring to continue my education with a bachelor's degree in early childhood. I have over nine years experience working with young children and families. Part of what I love about my job is partnering with our families in the education of their children and watching them grow and develop into lifelong learners. Through our regular parent events, we have created a community within our school and have become a big extended family.
Our learning center here in Wichita participates in the Kansas Quality Rating & Improvement System (KQRIS). This is a star-rating system that evaluates many different pieces of our program and holds us to a much higher standard than the Kansas Child Care Licensing and Registration Laws. I am proud to say that we became a 4-Star school in 2011! A big part of those 4-stars is due to our incredible teachers. They have over 20 years of combined experience. We are also a NECPA accredited school. We have a passion for what we do and it shows through our continuous efforts to grow as a family and facility!
We are more than a child care in Wichita, KS! Come visit us and see what amazing opportunities our school has to offer!
We are accredited by
To be accredited by a nationally recognized organization, a school must promote established "best practices" in the social, emotional, physical, language and cognitive development of children.
A Day In The Life Of Our Students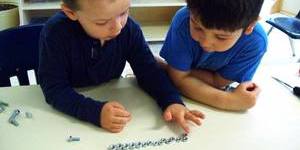 Learn more about how the highly trained teachers of La Petite Academy instill the critical-thinking, social and emotional skills every child needs to succeed in Kindergarten and beyond. All in a safe, nurturing environment.