Westerville, OH Daycare
130 Polaris Parkway, Westerville, OH 43081
Welcome to La Petite Academy Polaris!
Welcome to our wonderful La Petite Academy educational daycare center here in Westerville, OH. My name is Cori and I am the Academy Director of this fantastic daycare. I have a bachelor's degree in elementary and early childhood education and more than 20 years of experience as a teacher and manager. Our center opened in July 2002 and I have been here since October 2003. Drawing from this experience and education, I can confidently say that La Petite Academy offers the best
infant daycare
,
private preschool
and
kindergarten in Westerville
, OH.
I love getting to know the children and their families and am committed to providing them with constant, open communication. A member of my management team is always available and willing to meet with parents at any time. I am confident that I run one of the best programs in the Westerville area, and that our students are safe and learning in a fun environment every day.
We love having parents visit and help out in our classrooms. We offer many opportunities for them to volunteer in the classroom, from talking about their careers to reading stories to the children. Family involvement activities include our Thanksgiving Feast, Holiday Concert, annual book fair, father/daughter dance, Breakfast to Go, and Fall Festival to raise money for the Make-A-Wish Foundation.
If you are looking for an education-driven daycare in Westerville, OH, then give La Petite Academy a call and schedule a tour of our fantastic facility today!
We are accredited by
To be accredited by a nationally recognized organization, a school must promote established "best practices" in the social, emotional, physical, language and cognitive development of children.
A Day In The Life Of Our Students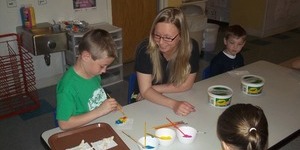 Learn more about how the highly trained teachers of La Petite Academy instill the critical-thinking, social and emotional skills every child needs to succeed in Kindergarten and beyond. All in a safe, nurturing environment.