Ventura, CA Daycare
261 W Stanley Ave, Ventura, CA 93001
Thanks for Visiting La Petite Academy of Ventura, CA!
My name is Sicili Redman and I am the Academy Director of this beautiful school, which provides the perfect blend of quality educational daycare and developmentally-appropriate curriculum in our
infant care
,
preschool
and other age-specific options. We are located in sunny Ventura, CA, on the property of the Ventura Unified School District and have been here for five years.
I am in process of completing my associates degree in Early Childhood Education. I have been in this field for over 6 years.
Being a part of this "family" here at La Petite is something I love. We are small and have a lot of family activities that keep us connected and give us a true sense of belonging.
Our staff here in Ventura is exceptional! Our teachers are all highly skilled, educated and motivated. I am proud of my team and they enjoy working here.
We offer many extra-curricular program choices. This helps busy parents by providing the activity at our school during the child's day, meaning time after work can be just for families. Some of our choices include music, Spanish, and yoga. We also do special class parties for last days and birthdays.
Please call or stop by to schedule a visit today. Not only is La Petite Academy child care in Ventura, CA the best choice for your child and family, you will find it is the right choice!
Facility License Numbers 566210590/566210591
A Day In The Life Of Our Students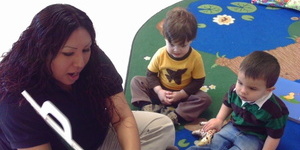 Learn more about how the highly trained teachers of La Petite Academy instill the critical-thinking, social and emotional skills every child needs to succeed in Kindergarten and beyond. All in a safe, nurturing environment.