St Paul, MN Daycare
1770 Grand Ave, St Paul, MN 55105
Welcome to La Petite Academy in St Paul, MN!
Thank you for visiting our La Petite Academy educational daycare and
preschool
in St. Paul, MN! My name is Shawna and I am the Academy Director. I have 14 years of early childhood education experience. La Petite Academy is a small school just licensed for 30 children, ages 33 months through Pre-Kindergarten. This creates a warm, family environment at our Academy. Every day, I strive to create a productive, comfortable learning environment for the students, teachers and parents at our school.
We have a truly unique building located on historic Grand Avenue in Saint Paul. Our beautiful yard includes a full playground, gardens and a gazebo and is a great source of pride for the students and staff at our Academy.
We are fortunate to have an outstanding staff here. I truly believe long-term, quality staff is the key to a successful early childhood learning experience. Our lead Pre-Kindergarten teacher has been with us 16 years! All of our staff have CPR/first aid certification and receive monthly training to keep up-to-date on all the latest teaching topics.
We truly value the relationships we have with the families at our Academy. We have frequent parent events and activities, everything from potluck picnics, Parents' Night Out events and our great Pre-K Graduation.
Schedule a tour of our fantastic La Petite Academy daycare and
preschool
in St. Paul, MN! We would love to meet you and show you our classrooms.
We are accredited by
To be accredited by a nationally recognized organization, a school must promote established "best practices" in the social, emotional, physical, language and cognitive development of children. We are currently accredited by NAEYC (National Accreditation for the Education of Young Children)
A Day In The Life Of Our Students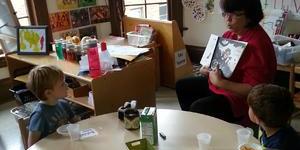 Learn more about how the highly trained teachers of La Petite Academy instill the critical-thinking, social and emotional skills every child needs to succeed in Kindergarten and beyond. All in a safe, nurturing environment.