Springfield, VA Daycare
8808 Redman Street, Springfield, VA 22153
Welcome to La Petite Academy of Springfield, VA
Thank you for visiting La Petite Academy educational daycare in Springfield, VA. My name is Rose Vargas and I have been with this daycare four years and have been the director here for two years. I have 32 years of child care experience and I have my Child Development Associate (CDA) certification. I am also a licensed EMT in Prince William County, VA.
Our school - including
daycare for infants
,
preschool programs
and more - is nationally accredited by NECPA (National Early Childhood Program Accreditation). The standards we follow are higher than those of the State of Virginia. In addition to our regular curriculum, we offer Muzzy Spanish lessons, ABC Music & Me classes, and American Sign Language.
I love working here because of the caring atmosphere we feel every day. We have teachers who are truly dedicated and who want to see children succeed! I have always had a passion for nurturing children. I have been a foster parent for six years, where I learned to see what is important for each individual child.
We strive to make this a warm and welcoming environment for both children and parents, and to keep the lines of communication open for everyone. I encourage each of our staff to take pride in what they do and encourage our teachers to be the voice for the children. I constantly keep in mind that our educational daycare is not just simply a business, it is a personal and emotional investment for our families.
Most of our teachers have been working at this academy for five years or more. We are all certified in fist aid and CPR for infants through adults. We also have designated staff members who are trained to administer medication in a daycare facility. At least one teacher in each classroom has either a CDA or other early childhood related degree.
Schedule a tour of our fantastic La Petite Academy educational daycare in Springfield, VA today!
We are accredited by
To be accredited by a nationally recognized organization, a school must promote established "best practices" in the social, emotional, physical, language and cognitive development of children.
A Day In The Life Of Our Students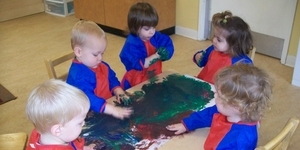 Learn more about how the highly trained teachers of La Petite Academy instill the critical-thinking, social and emotional skills every child needs to succeed in Kindergarten and beyond. All in a safe, nurturing environment.