South Bend, IN Daycare
521 N St Joseph Street, South Bend, IN 46601
Welcome to our La Petite Academy!
Thank you for taking interest in La Petite Academy Memorial Hospital educational daycare in South Bend, IN. My name is Sue and I am the director. I have a degree in early childhood education and I have been the director at this location for over 20 years. I have developed a strong community bond and relationship with each of families and children that have also enriched my life. My favorite quote is, "While we teach our children all about life, our children teach us what life is all about." - Angela Schwindt.
At La Petite Academy, our
infant child care
and
preschool programs
provide the perfect foundation for learning and child development. I run this daycare like everyone is an extension of my own family - the parents, children, and teachers. I strive to create a warm and welcoming environment and maintain an open door policy for anyone who would like to talk. We plan a lot of events for everyone to participate in and work hard to ensure that families meet each other and develop strong relationships as well.
I find it rewarding when I overhear children telling their parents about the great day they had here in South Bend, and how much fun they had with their teachers and peers. Every one of our teachers have first aid and CPR certification and go to continuous training sessions throughout the year provided by the state. We have our NECPA accreditation and our Level 4 Paths to Quality certification for the state.
We value the relationships we have with our families and work hard to involve them. We offer a number of opportunities for our families to volunteer in the classroom as well as monthly events, including Parent's Night Out and visits from various members of the community, as well as other family outings.
Schedule a tour of our wonderful La Petite Academy educational daycare in South Bend, Indiana today!
We are accredited by
To be accredited by a nationally recognized organization, a school must promote established "best practices" in the social, emotional, physical, language and cognitive development of children.
A Day In The Life Of Our Students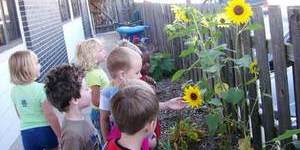 Learn more about how the highly trained teachers of La Petite Academy instill the critical-thinking, social and emotional skills every child needs to succeed in Kindergarten and beyond. All in a safe, nurturing environment.