Snellville, GA Daycare
2154 Hwy 124, Snellville, GA 30078
Visit Us at La Petite Academy in Snellville, GA!
Welcome to La Petite Academy in Snellville, Georgia! We are not just a "daycare", as you will see upon your visit to our center.

My name is Mary Lyons and I have been the Academy Director at this school for several months. My journey with La Petite Academy began over 23 years ago, when I started as a teacher. I have held various roles, including teaching, supporting, and leading at various schools. I am also active with the Georgia Childcare Association, currently serving as a Board Member as we partner with agencies in Georgia to support early childhood education. Also, as a mother of five children who grew up in La Petite Academy, I know firsthand the impact our curriculum, programs, and teachers have on a child's development. I hold a National Administrator's Credential, and participate in professional development opportunities that keep me abreast of research and quality practices.

My passion for ensuring that children have a safe nurturing environment that builds a love for lifelong learning shows by the way everyone is involved with the children in each of our classrooms. My staff and I work hard to build strong relationships with all of our families in the Snellville community. We partner with families to make sure each child's needs are being met, planning and adjusting lessons to encourage growth. We also plan many events to allow everyone an opportunity to actively participate, including family involvement nights, a fall festival, and classroom events.

Schedule a visit to see why our center for child care in Snellville, GA is the right choice for your family.

A Day In The Life Of Our Students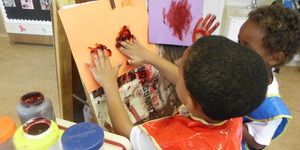 Learn more about how the highly trained teachers of La Petite Academy instill the critical-thinking, social and emotional skills every child needs to succeed in Kindergarten and beyond. All in a safe, nurturing environment.