Shawnee, KS Daycare
12850 W. 63rd St., Shawnee, KS 66216
Welcome to La Petite Academy of Shawnee, KS
I am so excited you have decided to take a look at our wonderful La Petite Academy educational daycare center in Shawnee, KS. We are not just a daycare - in addition to providing superior
local infant care
,
our preschool program
offers the best early education in the Shawnee community.
My name is Stacy and I am the director. I have my bachelor's of science in Elementary Education from Iowa State University. I have over 12 years of experience in the education and early childhood fields. I moved to Kansas City in 2005 and I have been proudly working for La Petite Academy ever since. I enjoy knowing every family feels safe and confident they have chosen the right place for their child here at our La Petite. We pride ourselves on our clean classrooms, safe playgrounds, wonderful documentation of learning, and nurturing teachers.
I am so proud of this school, the teachers, and the families we serve here in Shawnee. Every staff member takes pride in knowing they are educating and nurturing young children on a daily basis. We are a strong team who strive to give each family the individualized care and education you so desire. Our teachers have a combined service of over 40 years. Our families feel the strong bond we have and the caring nature of every teacher. When you combine a love of learning and a passion for excellence, you can not be beat!
We have bright lively classrooms, interactive teachers, and a wonderful "park"-like playground for all the children to enjoy. We often have family events and dinners around the big tree in the "backyard". This is a place you can extend your family to our teachers and other families in the school.
I would love to show you all the wonderful things our school has to offer for your family. Schedule a tour of our amazing La Petite educational daycare center in Shawnee, KS today!
A Day In The Life Of Our Students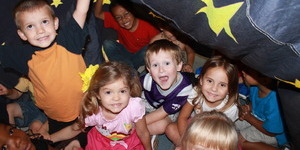 Learn more about how the highly trained teachers of La Petite Academy instill the critical-thinking, social and emotional skills every child needs to succeed in Kindergarten and beyond. All in a safe, nurturing environment.