Schaumburg, IL Daycare
651 Windsor Drive, Schaumburg, IL 60193
Welcome to La Petite Academy in Schaumburg, IL
Thank you for visiting La Petite Academy educational daycare in Schaumburg, IL! My name is Lynn and I am the director. I have a bachelor's degree in early childhood education with a minor in psychology. I also have 10 years of experience as a teacher and five years as a manager. Drawing from this experience and education, I can confidently say that La Petite offers the best
infant daycare
,
private preschool
and
kindergarten in Schaumburg
, IL.
I run this school like everyone enrolled is an extension of my own family. This includes the children, the parents and the teachers. I strive to create a warm and welcoming environment and maintain an open- door policy for everyone. We plan a lot of events to participate in and I work hard to ensure our families meet each other and develop strong relationships as well. I find it rewarding when I overhear a child telling their parent about the great day they had and how much fun they had with their teachers.
We are fortunate to have an outstanding staff here in Schaumburg dedicated to our children and our families. More than half of our teachers have over five years of teaching experience. All of our teachers receive monthly training as well as ongoing training provided by the state.
We value the relationships we have with our families and work hard to involve them. We offer a number of opportunities for our families to volunteer in the classroom and on field trips as well as monthly events, including Parents' Night Out and other family outings.
Schedule a tour of our fantastic La Petite Academy educational daycare in Schaumburg, IL today! We look forward to meeting you.
We are accredited by
To be accredited by a nationally recognized organization, a school must promote established "best practices" in the social, emotional, physical, language and cognitive development of children.
A Day In The Life Of Our Students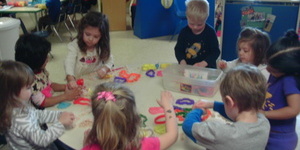 Learn more about how the highly trained teachers of La Petite Academy instill the critical-thinking, social and emotional skills every child needs to succeed in Kindergarten and beyond. All in a safe, nurturing environment.