Sarasota, FL Daycare
4507 Vintage Dr, Sarasota, FL 34243
Welcome to La Petite Academy in Sarasota, Florida!
Thank you for visiting our La Petite educational daycare in Sarasota, Florida. This school opened in February of 1992 and continues to be a leader in
infant care
,
preschool
and other age-specific programs in this area.
I am Ruthi Wiedenhoft and have been with La Petite since 1991 and became a director in 2000. I have my FCCPC as well as my Director Credential endorsed for VPK.
Our children and families here in Sarasota are our family! Communication is of the utmost importance to us and we want all our families to know that the development and safety of their child is our key focus. Our teachers are the heart and soul of our school and many have been with us for an average of 9 years with some longer! All of our staff is certified in CPR/first aid. We currently have 12 teachers with their FCCPC's, two attending school to receive FCCPC, and one teacher attending school to receive her BA in education.
We all do monthly training as well as participate in a Professional Development Day annualy. Continuing education and knowledge of best practices is key to our teachers' continued success as being a key role model for children!
We invite you to tour our La Petite Academy in Sarasota, FL, bring your child and get involved in an activity, and see why we continue to be a leader in early childhood education! You will love our fantastic child care!
We are accredited by
We received our National Accreditation through NECPA in April 2013!
A Day In The Life Of Our Students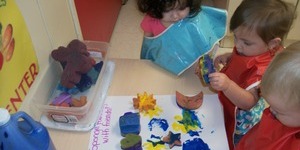 Learn more about how the highly trained teachers of La Petite Academy instill the critical-thinking, social and emotional skills every child needs to succeed in Kindergarten and beyond. All in a safe, nurturing environment.