San Diego, CA Daycare
10050 Carmel Mountain Rd, San Diego, CA 92129
Welcome to La Petite in Rancho Penasquitos, San Diego!
It is my pleasure to welcome you to our La Petite Academy educational
preschool in San Diego
, CA! My name is Chrissie Sarff and I am the Academy Director. I have an early childhood educational background and ten years of experience and I am pleased to be working with this dynamic group of professionals providing quality education for children.
Our team of dedicated teachers provide safe, nurturing, and loving care while keeping each child engaged in fun and exciting learning opportunities. With experience ranging from one to 24 years, every teacher is well-educated, first aid/CPR certified, and receives ongoing training. Many of our teachers have worked at our school for more than four years, all possessing an incredible passion for teaching young children. As a team, our staff at La Petite in San Diego are committed to treating all families as an extension of our own.
The environment we provide our children is our top priority. We have a passion for excellence and a love of learning and innovation. We believe children are active learners with unique talents who learn best through guided exploration that focuses on language, cognitive, social-emotional, and physical development, as well as creativity with arts. It is truly amazing to see children reach their potential, and helping them achieve each milestone is a joy.
I am confident a visit to our La Petite educational child care in San Diego, CA will help you decide our school is the right place for your child. Call us to schedule your tour today!
License numbers: 376600102, 376600891
A Day In The Life Of Our Students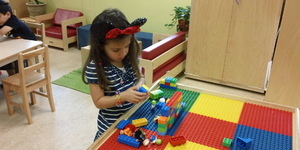 Learn more about how the highly trained teachers of La Petite Academy instill the critical-thinking, social and emotional skills every child needs to succeed in Kindergarten and beyond. All in a safe, nurturing environment.