San Antonio, TX Daycare
9401 Guilbeau Road, San Antonio, TX 78250
Welcome to La Petite Academy of San Antonio, TX!
Thank you for visiting La Petite Academy educational daycare in San Antonio, TX. Let me take this opportunity to introduce myself and tell you about our exceptional
infant care
and
preschool program
we provide for our children. My name is Terri Hammerling and I am the director of 20 years at this school. After many years as a
preschool
teacher, I was fortunate to be given the opportunity to become the director of our learning center.
As a director, I am able to lead my team and form bonds with my employees and families that last a life time. It is truly incredible to watch our children grow up and have their children join us, and experience the freedom to explore and discover the world around them.
More than half of our Academy teachers have a Child Development Associates Certificate and three years of teaching. Combined, we have 184 years experience in our classrooms. We continue to provide ongoing educational training programs throughout the year. We achieved Texas Rising Star Provider in 2011.
We encourage our parents to get involved and participate in school activities. Our center in San Antonio, TX is warm and a inviting place. We're like a second home to our children and families. We look forward to have you join our family today.
Please call or visit to schedule a tour of our child care in San Antonio, Texas!
A Day In The Life Of Our Students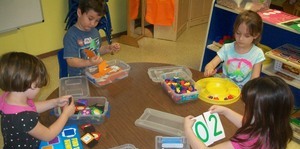 Learn more about how the highly trained teachers of La Petite Academy instill the critical-thinking, social and emotional skills every child needs to succeed in Kindergarten and beyond. All in a safe, nurturing environment.