Sammamish, WA Daycare
410 228th Ave. NE, Sammamish, WA 98074
Welcome to La Petite in Sammamish, WA!
Thank you for visiting La Petite Academy educational daycare in Sammamish, WA! My name is Sarah and I am the Acting Director of this wonderful school. I have 13 years of experience in early childhood education as both a teacher and manager.
Whether it's providing loving
care for infants
, participating in activities in
our preschool programs
, or any of the other exciting programs offered through La Petite Academy, I love what I get to do each day - watch so many little ones learn and grow! I have developed such a bond with each child and get so excited when they reach a new milestone. I love the relationship I have built with each family and the chance I get to talk with them each day.
I want everyone to feel like they are part of our extended family - the children, parents and teachers. I strive to create a warm and welcoming environment and maintain an open-door policy for anyone who would like to talk. Our Mother's and Father's Day brunches, along with pre-K and
preschool
graduations, Fall Festival and other special functions, give families a chance to meet and develop strong relationships.
We are fortunate to have an outstanding staff dedicated to our children and families. More than half of our staff has over five years of teaching experience at our school alone.
Schedule a tour at our La Petite Academy learning center for child care in Sammamish, WA today! We look forward to meeting your family.
A Day In The Life Of Our Students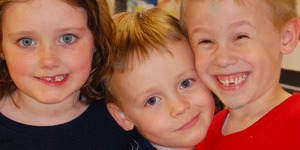 Learn more about how the highly trained teachers of La Petite Academy instill the critical-thinking, social and emotional skills every child needs to succeed in Kindergarten and beyond. All in a safe, nurturing environment.