Round Lake Beach, IL Daycare
2518 Route 83, Round Lake Beach, IL 60073
Welcome to the Round Lake Beach La Petite Academy!
I am delighted to welcome you to our La Petite Academy educational daycare in Round Lake Beach, IL. My name is Becky and I am the Associate Director. I have my degree in education and over 8 years experience working in the early childhood education field. I work together with our Area Director, Heather Sallay, to make sure that your child is receiving the highest quality of care! Heather has over 13 years of experience working in child care, over half of those as a manager! Tera is our Assistant Director and she brings with her over seven years of experience in the early childhood education field as well. We love knowing each day what we do here is impacting the lives of children along with their families.
At La Petite, our
infant child care
and
preschool programs
provide the perfect foundation for learning and child development. With our warm, welcoming environment and staff, we truly see the children and parents as part of our family. We encourage families to participate in a variety of events and activities including parent/teacher conferences, family literacy night, family game night, reading in the classrooms, Muffins with Mom, Donuts with Dad, our pre-K graduation, and so many more.
We value the relationships we build with all our families here in Round Lake Beach, and to help each child develop a love for learning, we partner closely with all our families to ensure each child's individual needs are met.
Our school has been open since 2000 and we are currently in the process of NECPA accreditation. Our loving teachers have more than 160 years of combined experience in early childhood education, and treat each and every child like they are one of their own.
Our staff is committed to our school, children, and families. We are proud to offer the best program in the area. We invite you to call us today to schedule a tour of our daycare/
preschool
facility and see why La Petite Academy is the leading early childhood daycare in Round Lake Beach, IL.
A Day In The Life Of Our Students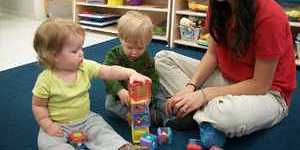 Learn more about how the highly trained teachers of La Petite Academy instill the critical-thinking, social and emotional skills every child needs to succeed in Kindergarten and beyond. All in a safe, nurturing environment.