Redmond, WA Daycare
8675 161st Ave NE, Redmond, WA 98052
Welcome to La Petite Academy in Redmond, Washington!
Hello. My name is Matty Ryder and I am the Center Director of this incredible educational daycare in Redmond, WA. I have an associates of arts degree in liberal studies with an emphasis in early childhood education and have 14 years of experience in the field of education. Pulling from my experience and education, I am confident in saying that La Petite Academy offers the best
infant daycare
and
preschool programs
in Redmond!
At La Petite Academy we are dedicated to the belief that all children can be challenged to reach their maximum potential in a welcoming, caring and safe environment that promotes both academic and social programs. We motivate our children to develop an interest and excel in academics and technology while building positive character traits.
Our staff here in Redmond attends 10 hours of early childhood education state training every year and continues to receive company training as well. Each member of our staff is also certified in CPR and first aid and has passed a state background check. Our classroom teachers are challenged to provide an enriched curriculum that reaches all children.
I invite you to schedule a tour so you can witness firsthand all the things that make our program at La Petite Academy center for child care in Redmond, Washington so special!
A Day In The Life Of Our Students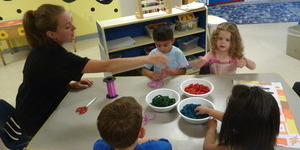 Learn more about how the highly trained teachers of La Petite Academy instill the critical-thinking, social and emotional skills every child needs to succeed in Kindergarten and beyond. All in a safe, nurturing environment.