Gold River, CA Daycare
11378 Coloma Rd, Gold River, CA 95670
Welcome to La Petite Academy in Rancho Cordova, CA!
Welcome to our educational daycare in Rancho Cordova, CA! My name is Myra Rodriguez, and I'm the Director of this La Petite Academy school that includes programs for
infant care
,
preschool
and more. I have been with La Petite Academy since 1988, here in Gold River.
Our learning center is filled with highly-qualified, enthusiastic, motivated teachers who's passion for teaching and learning is evident in every part of the day. From circle time and sensory experiences, journal writing to building lasting friendships, children who become part of our family are confident and ready to tackle the world!
An excerpt from "All I really know I learned in Kindergarten" really sums it up. "Live a balanced life - learn some and think some and draw and paint and sing and dance and play and work every day some."
I can't wait to share our passion for learning and growing with your family. Schedule a tour of our amazing center for child care in Rancho Cordova, CA!
License numbers: 343600869 /343600870 / 343600871
A Day In The Life Of Our Students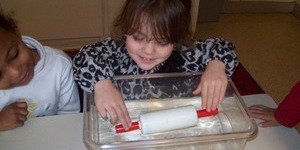 Learn more about how the highly trained teachers of La Petite Academy instill the critical-thinking, social and emotional skills every child needs to succeed in Kindergarten and beyond. All in a safe, nurturing environment.