Raleigh, NC Daycare
1420 Hedingham Blvd, Raleigh, NC 27604
Welcome to La Petite Academy in Raleigh, NC!
Thank you for visiting La Petite Academy educational daycare in Raleigh, NC! We are located in Hedingham subdivision between the Beltline and Knightdale. My name is Michelle and I am the director. I hold a Bachelor of Arts degree in Early Childhood Education as well as 19 years of experience as a teacher and a director.
I have a tremendous love of children and I place a high standard on learning. I believe children are an inspiration; each one different in their own way, with so much to teach us.
Infant care
and
preschool
is really where all the importance should be placed as it is when our children are developing the most and when learning can be the greatest. I think it is these early experiences with education that makes all the difference in the world in how a child looks at school in the future.
I enjoy interacting with families here in Raleigh and seeing the children develop into lifelong learners. My staff and I know the importance of building relationships and take the time to personally get to know each child, parents, and family that attends our center.
I like to think we treat our families as if they were an extension of our own. I strive to create a warm and welcoming environment and maintain an open-door policy for anyone who would like to talk. We plan lots of events for everyone to participate in and I work hard to ensure that our families meet each other and develop strong relationships as well.
I find it rewarding when I overhear a child tell their parents about the great day that they had and how much fun they had with their teachers. We are fortunate to have an outstanding staff that is dedicated to our children and their families.
Our child care in Raleigh, NC is equipped with locked entrances at all times because safety is a top priority to us. Schedule a tour today!
A Day In The Life Of Our Students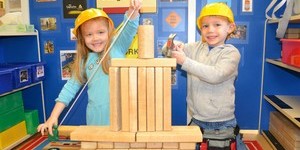 Learn more about how the highly trained teachers of La Petite Academy instill the critical-thinking, social and emotional skills every child needs to succeed in Kindergarten and beyond. All in a safe, nurturing environment.