Powder Springs, GA Daycare
4200 Steeplechase Dr, Powder Springs, GA 30127
Welcome to La Petite Academy of Powder Springs, GA!
Hello and thank you for visiting La Petite Academy. Let me take the opportunity to introduce myself and the exceptional programs we provide. My name is Eboney Lang-Benton and I am the director here at this wonderful educational daycare in Powder Springs, GA. I have more than13 years of experience, in the early childhood field.
As the director, I am very blessed to build relationships with our families and form bonds that last a lifetime. I treasure every moment of everyday! I also love seeing the children explore their "world" in our
infant care
and
preschool programs
. It is truly incredible to see the capabilities of each young child when they are given the proper materials and the freedom to discover their talents. It is because he or she was given the tools to learn, the freedom to make mistakes and the guidance he or she needs to make informed choices.
More than half of our teachers here in Powder Springs have been with us more than five years and have more than 55 years combined experience in child care. We all receive continuing education and participate in ongoing training throughout the year.
Parents are encouraged to get involved and participate in our school activities. Playing a fundamental role in your child's education is very rewarding. We have monthly activities to ensure that you can be involved in your child's learning experience. Our center for child care in Powder Springs, GA is warm and inviting place and we know it will become your second home.
We look forward and welcome you and your child to our extended family. Come join us today!
A Day In The Life Of Our Students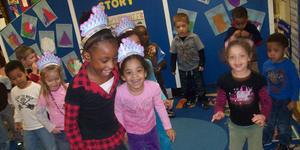 Learn more about how the highly trained teachers of La Petite Academy instill the critical-thinking, social and emotional skills every child needs to succeed in Kindergarten and beyond. All in a safe, nurturing environment.