Port St Lucie, FL Daycare
410 SW Bethany Drive, Port St Lucie, FL 34986
Welcome to La Petite Academy in Port St. Lucie, FL!
Welcome! My name is Barbara and I am the director here at La Petite Academy educational daycare in Port St. Lucie, FL, where I have been for the past five years. I started as a two year old teacher and went on to teach Pre-Kindergarten. I have my National Child Development Associate credential, and my Director's Credential.
At La Petite, our
infant child care
,
preschool
and early childhood education programs provide the perfect foundation for learning and child development. My staff and I treat every parent and child as part of our family. Most of our families will tell you that every teacher knows their child's name and greets each child and family member by name. We plan a lot of fun and exciting activities every week to make each child's experience fun and educational.
As children are coming in in the morning, I love to hear how excited they are for something planned in the classroom or in the school. I strive to make sure each child leaves saying how great their day was, and how they cannot wait to come back.
Please stop by or give us a call so we can show you around our La Petite Academy educational daycare in Port St. Lucie, FL. Hope to see you soon.
We are accredited by
To be accredited by a nationally recognized organization, a school must promote established "best practices" in the social, emotional, physical, language and cognitive development of children.
We earned our national accredition in August 2010.
A Day In The Life Of Our Students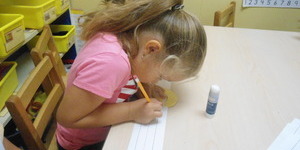 Learn more about how the highly trained teachers of La Petite Academy instill the critical-thinking, social and emotional skills every child needs to succeed in Kindergarten and beyond. All in a safe, nurturing environment.