Port Orange, FL Daycare
650 Taylor Rd, Port Orange, FL 32127
Welcome to La Petite Academy of Port Orange!
Thank You for visiting La Petite Academy educational daycare in Port Orange, FL! My name is Sophia and I am the Director of this amazing school. I have been with La Petite Academy for 20 years as well as 24 years early childhood education experience. Based on my experience and education, I can confidently say that our
infant care
and
preschool programs
are the best in the Port Orange area.
Our school has long-termed tenured teachers and we consider the children, parents as a extension of our own families. I also strive to create a warm and welcoming environment and maintain an open-door policy for anyone who would like to talk. We plan a lot of events for everyone to participate in, and I work hard to ensure families meet each other and develop strong relationships as well.
Our learning center here in Port Orange is nationally accredited by NEPCA (National Early Childhood Program Accreditation). We received this award in October 2010 and we are also a Gold Seal Provider in the State Of Florida, and we continue to meet the needs of accreditation standards. The standards that we follow are higher than the State Of Florida Child Daycare Licensing Standards.
Call or visit to schedule a tour of our wonderful facility for education-driven child care in Port Orange, FL!
We are accredited by
To be accredited by a nationally recognized organization, a school must promote established "best practices" in the social, emotional, physical, language and cognitive development of children.
A Day In The Life Of Our Students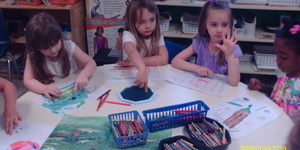 Learn more about how the highly trained teachers of La Petite Academy instill the critical-thinking, social and emotional skills every child needs to succeed in Kindergarten and beyond. All in a safe, nurturing environment.