Orlando, FL Daycare
6573 Old Winter Garden, Orlando, FL 32811
Welcome to La Petite Academy of Orlando, Florida
Thank you for visiting La Petite Academy educational daycare in Orlando, Florida. My name is Debra Pase and I am the Academy Director. I earned my associate's degree from Keystone College in Pennsylvania and have over 15 years experience as a teacher and manager. Drawing from this experience and education, I can confidently say that La Petite Academy offers the best infant daycare and
private preschool
in Orlando, FL.
Our academy is nationally accredited by NECPA (National Early Childhood Program Accreditation). We received this award in September of 2010 and we continue to meet the needs of accreditation standards.
I treat this school as it is an extension of my own family. I strive to create a warm and welcoming environment and maintain an open door policy for parents as well as staff. We offer many family involvement activities through out the year. This allows family participation and gives the opportunity for parents to meet other parents. My goal is to make our school a warm and exciting learning environment for all.
Please call or visit to set up a tour of our wonderful La Petite Academy educational daycare in Orlando, FL today! We look forward to meeting you.
We are accredited by
To be accredited by a nationally recognized organization, a school must promote established "best practices" in the social, emotional, physical, language and cognitive development of children. Our school earned accreditation in September of 2010 and we continue to meet the accreditation standards.
A Day In The Life Of Our Students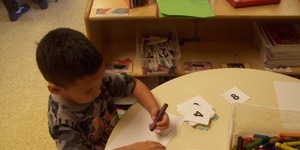 Learn more about how the highly trained teachers of La Petite Academy instill the critical-thinking, social and emotional skills every child needs to succeed in Kindergarten and beyond. All in a safe, nurturing environment.