Orlando, FL Daycare
10936 S Trail Circle, Orlando, FL 32837
Welcome to La Petite Academy in Orlando, Florida!
Welcome to our wonderful La Petite Academy educational daycare in Orlando, FL! My name is Melissa Phillips and I am the Academy Director of this great school. I hold a degree in Early Education and have 20 years of experience in early childhood education as a teacher and manager.
Established in 1990, our La Petite Academy, including
daycare for infants
,
preschool
, pre-K, and Summer Camp programs, is accredited through NECPA and has been recognized as a Florida Gold Seal Quality Care program provider, both of which we are very proud of. I believe children are to be cherished and nurtured as they are taught important academic and social skills. I run my school as a big family and I hope that you will join us!
Our families here in Orlando choose us for our teachers. They are without a doubt the best in the industry! Their education helps them to create individualized lesson plans so they can accommodate the needs of our children. Each classroom, from Infants to Summer Camp, has a curriculum with age-appropriate, stimulating activities to keep learning fun. Our teachers stay current with monthly training sessions and ongoing training offered by the state. Also, all our teachers are certified in CPR and first aid.
I'm confident we offer the best programs in the area because of our dedicated staff and family atmosphere. We always welcome families in our school and classrooms! We value our relationships with our families and know that our school will provide your child with the tools and skills he or she needs to succeed. We always welcome your feedback and questions.
Call us today to schedule a tour of our La Petite Academy education-driven child care in Orlando, FL! We look forward to meeting your family and being your partner in your child's success!
We are accredited by
We are a "Nationally Accredited Early Childhood Education Program'. We establish "best practices" in the social , emotional, physical language and cognitive development of children.
A Day In The Life Of Our Students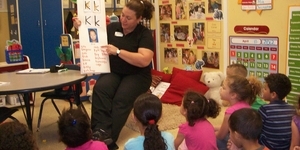 Learn more about how the highly trained teachers of La Petite Academy instill the critical-thinking, social and emotional skills every child needs to succeed in Kindergarten and beyond. All in a safe, nurturing environment.