Oklahoma City, OK Daycare
8401 South Pennsylvania Ave, Oklahoma City, OK 73159
Welcome to La Petite of Oklahoma City!
Hello and thank you for visiting us at La Petite Academy educational daycare in Oklahoma City, OK! Let me take this opportunity to introduce myself as well as the
infant care
and
preschool programs
that we provide.
My name is Jeni, and I am the director at this wonderful school. I received my bachelor's degree in 2006 in Business and Early Childhood Education. I have worked in child care for 10 years, starting as a two-year-old teacher. I have been fortunate enough to continue my education and professional growth to become a director at La Petite Academy.
As our director, I feel am able to better serve families and children. Instead of focusing on one classroom with one group of children, I know have the opportunity to work with 10 wonderful teachers and interact with 70 children everyday! It is rewarding to be able to impact so many families. Not only do we help each child develop their foundations for life long learning, but we get the opportunity to assist families in achieving their work/family balance.
We are the smallest center in the Oklahoma City metro area, so we truly are a family. Every teacher knows each child's needs regardless of their classroom. We pride ourselves on a wonderful group of teachers that are both professional and nurturing. Most of the staff have or are in the process of receiving credentials in Early Childhood Education. We all receive continuing education and participate in ongoing trainings throughout the year. Each teacher is also certified in CPR/first aid.
We have an open door policy where parents are encouraged to get involved and participate in our school activities. We understand that you are your child's first teacher and we want to be there to support you every step of the way!
Schedule a tour of our amazing learning center for child care in Oklahoma City, OK!
We are accredited by
To be accredited by a nationally recognized organization, a school must promote established "best practices" in the social, emotional, physical, language and cognitive development of children.
A Day In The Life Of Our Students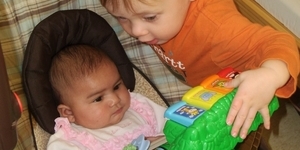 Learn more about how the highly trained teachers of La Petite Academy instill the critical-thinking, social and emotional skills every child needs to succeed in Kindergarten and beyond. All in a safe, nurturing environment.