Murfreesboro, TN Daycare
342 West Northfield Blvd., Murfreesboro, TN 37129
Welcome to La Petite Academy of Murfreesboro!
Hello and welcome to our educational daycare in Murfreesboro, TN. My name is Tadia and I am the Director. In addition to my 11 years experience in the early childhood education field – eight specifically with La Petite Academy – I am certified through TECTA and attending college with a focus in early childhood education. Drawing from my education and experience, I can confidently say that La Petite Academy offers the best
care for infants
,
preschool
and other age-specific programs in the area.
As a staff, we create a family atmosphere that enhances the educational training of the children. We get to know our families and establish strong relationships within our Murfreesboro community. This helps in monitoring and supervising the growth of the students.
Our staff is experienced and dedicated with more than 50 percent having over five years of service to our school. They have a combined 60 years of teaching and caring for children. In addition, they hone their skills through ongoing workshops and by taking training sessions provided by the state.
If you are looking for an education-driven child care in Murfreesboro, TN, then give us a call and schedule a tour today!
A Day In The Life Of Our Students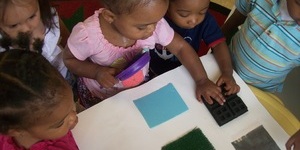 Learn more about how the highly trained teachers of La Petite Academy instill the critical-thinking, social and emotional skills every child needs to succeed in Kindergarten and beyond. All in a safe, nurturing environment.