Midwest City, OK Daycare
1505 S. Post Road, Midwest City, OK 73130
Welcome to La Petite Academy in Midwest City, OK
Thank you for visiting La Petite Academy educational daycare in Midwest City, Oklahoma. My name is Clarice Hawkins, and I am the Academy Director. I have a double major in elementary education and early childhood education, as well as over thirty years of experience in child care and the early education field. I also hold additional certifications, including the Director's Credential, CPR/first aid, and am a certified trainer with Developing Capable Young People. Drawing from my education and experience, I can confidently say that we offer the best
infant care
and
preschool programs
in the area.
I love being a Director because I enjoy influencing the lives of children and families in a positive way. I also enjoy training employees to become outstanding teachers through trainings and observations provided within the classroom and throughout the company and community. I am a manager who leads by example, demonstrating not only with my words, but also with my actions what I expect for the teachers to adhere to in the classrooms in regards to care and education of children as well as the cleanliness of the facility.
Our school here in Midwest City is nationally accredited by NECPA (National Early Childhood Program Accreditation). We received the award in November of 2011, and we continue to meet the needs of the accreditation standards. The standards that we follow are higher than the State of Oklahoma's Child Daycare Licensing Standards.
Many of our staff hold their CDA, or Certificate of Mastery certifications in childcare, bachelor's or associates degrees in the early childhood field, or are currently going to school to attain such certifications and/or degrees. In addition, all of our staff are CPR/first aid certified. I feel we as a team strive to help children not only attain a great education in their early years, but also assist our students in becoming capable young children by teaching them how to solve problems in an appropriate manner.
Please schedule a tour of our amazing center for child care in Midwest City, OK today!
We are accredited by
To be accredited by a nationally recognized organization, a school must promote established "best practices" in the social, emotional, physical, language and cognitive development of children.
A Day In The Life Of Our Students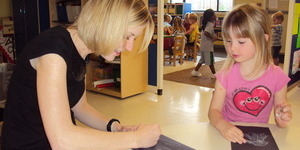 Learn more about how the highly trained teachers of La Petite Academy instill the critical-thinking, social and emotional skills every child needs to succeed in Kindergarten and beyond. All in a safe, nurturing environment.