Miami, FL Daycare
6190 NW 7th Street, Miami, FL 33126
Welcome to La Petite Academy in Miami, FL!
Welcome to our La Petite Academy educational daycare in Miami, FL. My name is Yannean Rodriguez and I am the Center Director. Our school is dedicated to
infant care
, education-drive
preschool
and other age-specific programs. Our commitment to kids doesn't stop there! We are passionate about providing your children with the tools they need to be successful in all aspects of their lives. Unlike traditional daycare, we combine our strong Journey Curriculum and a safe, stimulating environment to create meaningful experiences for your child every day.
Our wonderful staff at la Petite Academy focus on seven skill areas, an approach we call our Whole Child Education. We help your child develop the critical-thinking skills and intellectual curiosity that fuel success in his or her kindergarten classroom and beyond. The teachers in our center here in Miami truly enjoy what they do, and thrive on watching the young children in their classes grow into well rounded young men and women.
We run this learning facility like everyone involved is an extension of our own family - the children, parents, and teachers. We strive to create a warm and welcoming environment and maintain an open-door policy for anyone who would like to talk. We plan a lot of events for everyone to participate in and I work hard to ensure that our families meet each other and develop strong relationships as well.
If you have any questions or would like to schedule a tour, please contact us and someone will always be available to help you. We hope you come visit our wonderful La Petite Academy educational daycare in Miami, FL to see for yourself all we have to offer. We look forward to meeting your family!
We are accredited by
To be accredited by a nationally recognized organization, a school must promote established "best practices" in the social, emotional, physical, language and cognitive development of children.
A Day In The Life Of Our Students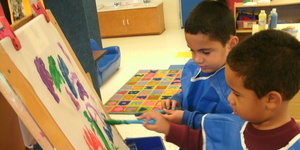 Learn more about how the highly trained teachers of La Petite Academy instill the critical-thinking, social and emotional skills every child needs to succeed in Kindergarten and beyond. All in a safe, nurturing environment.