Memphis, TN Daycare
2857 Coleman Road, Memphis, TN 38128
Brilliant Beginnings Start at La Petite Academy in Memphis!
I'm happy to welcome you to our educational daycare in Memphis, TN! Our school for
infant care
,
preschool
and
private Kindergarten
is deeply rooted in our community and has a long-standing reputation of family involvement. My name is Priscilla Forrest and I am the Area Director. I have a bachelor's degree in English and bring more than 12 years of experience as a teacher and manager to my position.
I truly value the interactions I have with our families and seeing their children learn and grow. I feel a sense of accomplishment when hearing about our children who go on to become successful because of our early education programs.
We plan many events for everyone to participate in here in Memphis and I work hard to ensure that families meet each other and develop strong relationships, too.
The longevity of our staff members at La Petite Memphis ranges from one to 23 years! Staff participate in ongoing training and are continually working to increase their education in child development.
Call us today and I believe you'll find we have an excellent program and the best teachers around! You can find our amazing, education-driven child care in Memphis, TN. We look forward to meeting you!
A Day In The Life Of Our Students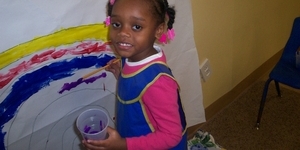 Learn more about how the highly trained teachers of La Petite Academy instill the critical-thinking, social and emotional skills every child needs to succeed in Kindergarten and beyond. All in a safe, nurturing environment.