Kissimmee, FL Daycare
2400 Mill Run Rd, Kissimmee, FL 34744
Welcome to La Petite Academy in Kissimmee, FL!
Thank you for visiting La Petite Academy educational daycare in Kissimmee, FL! My name is Joanna and I am the director of this wonderful school. I have been the director here for the past four years and a total of eight years with La Petite. I hold a bachelor's degree in business administration with an emphasis on hospitality management. I also have a staff credential certificate and a director's credential from the State of Florida. Based on my experience and education, I am confident in saying that La Petite Academy offers the best
care for infants
and
preschool programs
in addition to our many other early childhood opportunities.
Prior to joining La Petite Academy, I was in the hotel industry, but when my son was born, I decided I wanted to do something meaningful with children. My son grew up with La Petite and now is in middle school. I am proud to be part of such a great organization!
Our school is nationally accredited by NECPA (National Early Childhood Program Accreditation). We received the award in September 2011, and we continue to meet the needs of accreditation standards.
I run this school here in Kissimmee as if it were an extension of my own family - the children, parents and teachers. We strive to create a warm, welcoming environment and maintain an open-door policy for anyone who would like to talk. We plan a monthly calendar that includes many events parents can join in.
We have a dedicated group of teachers who love what they do and enjoy teaching the children important "life skills." All our teachers receive monthly training as well as ongoing training provided by the county and the state.
We value the relationships we have with our families and work hard to involve them in every aspect of their children's learning. We have potlucks and monthly luncheons where parents can come learn about nutrition with their children.
Call or stop by today to schedule a tour of our engaging La Petite educational child care in Kissimmee, FL!
We are accredited by
To be accredited by a nationally recognized organization, a school must promote established "best practices" in the social, emotional, physical, language and cognitive development of children.
A Day In The Life Of Our Students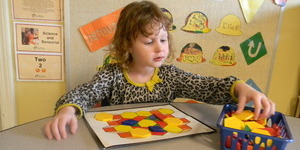 Learn more about how the highly trained teachers of La Petite Academy instill the critical-thinking, social and emotional skills every child needs to succeed in Kindergarten and beyond. All in a safe, nurturing environment.