Jacksonville, FL Daycare
800 Girvin Road, Jacksonville, FL 32225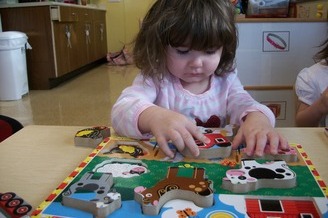 Two-Year-Old
Our Two-Year-Old Program is based on Whole Child Education. Classrooms are designed specifically for curious and energetic two-year olds with open shelves and easy-to-reach supplies. Every classroom also features six distinct interest centers. There's a storytelling center, a games center, a puzzles center, a sand and water center, and more. Listening to stories, singing songs, playing games and doing art projects are the best ways for two-year-olds to develop important language, cognitive, social and movement skills.
To help you monitor your child's progress, we provide details of everything your child does, each day.
For more information on our Two-Year-Old Program, schedule a tour.
I have both of my children here and they are just great with my girls! I love it and my girls love going there. The staff is wonderful!
-Birttany
Jacksonville, FL
Come Visit Us!