Indianapolis, IN Daycare
3836 Shore Drive, Indianapolis, IN 46254
Welcome to La Petite Academy!
We would like to take this opportunity to thank you for choosing La Petite Academy educational daycare in Indianapolis, IN as your family's early education and child care provider. These early years are so important and we are honored to share a role in your child's development. In addition to providing superior
local infant care
,
our preschool program
offers the best early education in the Indianapolis community.
At La Petite Academy, we understand the importance of maintaining open communication with all of our families. We have a variety of systems in place to help ensure that parents are receiving information about our school and their children on a daily basis. This includes our Family Communication Center for each classroom. In this area, you will find weekly calendars of lessons and activities, Family Newsletters, our daily schedule, and much more.
We run this daycare here in Indianapolis like everyone involved is an extension of our own family - the children, parents, and teachers. We strive to create a warm and welcoming environment and maintain an open-door policy for anyone who would like to talk. We plan a lot of events for everyone to participate in and we work hard to ensure that families meet each other and develop strong relationships as well.
We also provide regular family communication called Daily Records. These reports highlight different things that occurred during your child's day. We thank you again for choosing La Petite Academy educational daycare in Indianapolis, IN for your family and for allowing us to share in your child's life.
Sincerely,
Tammy French
Director
A Day In The Life Of Our Students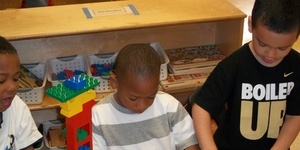 Learn more about how the highly trained teachers of La Petite Academy instill the critical-thinking, social and emotional skills every child needs to succeed in Kindergarten and beyond. All in a safe, nurturing environment.