Hazelwood, MO Daycare
733 Dunn Road, Hazelwood, MO 63042
Welcome to La Petite Academy in Hazelwood, MO!
Welcome! My name is Terry Pingel and I am the Director of this La Petite Academy educational daycare in Hazelwood, MO. I began my career in child care 35 years ago and have spent 11 years as a teacher working with a variety of age groups and 24 years as a Director. I became the Director of our Hazelwood school 19 years ago, and before that I was the Director at another school for 16 years. Drawing from this experience and education, I can confidently say La Petite Academy offers the best
infant daycare
and
private preschool
in Hazelwood, MO.
My staff and I strive to create a warm and welcoming environment. We have an open-door policy and welcome our families to visit any time. As a matter of fact, we have several events during the year for everyone to participate in. We believe it's very important for our families and staff to meet each other and develop strong relationships.
As a Director, I take pride in the fact that more than half our staff has been with the company for 20 or more years. Each staff member is trained in CPR and first aid and continues their education through ongoing training workshops for early childhood education and daycare programs.
On January 31, 2012, our school and staff were accredited through NECPA (National Early Childhood Program Accreditation). NECPA standards exceed Missouri State Child Daycare Licensing Standards. We are committed to continuing the NECPA standards and providing our families with the very best care possible!
My teachers and I work hard to build strong relationships with our families and to continue to provide the very best care for each child in our program. All of us here at La Petite look forward to meeting you and your family. Please stop by and see us, or schedule a tour. We would love to show you our La Petite educational daycare in Hazelwood, MO!
We are accredited by
To be accredited by a nationally recognized organization, a school must promote established "best practices" in the social, emotional, physical, language and cognitive development of children.
A Day In The Life Of Our Students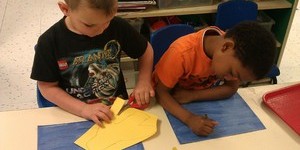 Learn more about how the highly trained teachers of La Petite Academy instill the critical-thinking, social and emotional skills every child needs to succeed in Kindergarten and beyond. All in a safe, nurturing environment.