Greensboro, NC Daycare
2305 Fleming Road, Greensboro, NC 27410
Welcome to La Petite Academy in Greensboro, NC!
I'd like to take this opportunity to welcome you to our La Petite Academy educational daycare in Greensboro, NC! Our location has been here since 1992. My name is Marsha Kabler and I am the academy director. I have a degree in early childhood education and bring more than 20 years of experience as a teacher and manager to our wonderful school.
I personally enjoy getting to know our children and families. I take pride in watching the children grow and develop into lifelong learners through our
infant care
,
preschool
and other age-appropriate programs. We work with our families on a personal level as we become partners in your child's learning experience.
Here at La Petite, we offer an excellent curriculum for infants to school-age children, all taught by a dedicated, highly motivated staff that provides a loving, warm and secure environment conducive to learning. More than half of our teachers have been with us for five or more years, with a combined experience of more than 80 years. All of our teachers receive monthly training, including ongoing training offered by the State of North Carolina. All of our teachers are certified in CPR and first aid.
The safety of your child is of the utmost importance to us, which is why our school has a coded front door. We are committed to our families and plan events and activities for everyone to participate in. I work hard to ensure all our families meet each other and develop relationships. We offer a number of opportunities for our families to volunteer in the classroom and on field trips, as well monthly events, including Parents' Night Out and other family outings.
I enjoy interacting with the families, teachers, and most of all, the children. It is especially rewarding to have children come back to visit after they have aged out of our facility to tell me about the successes they derived from our programs.
Schedule a tour of our amazing La Petite Academy educational child care center in Greensboro, NC today!
A Day In The Life Of Our Students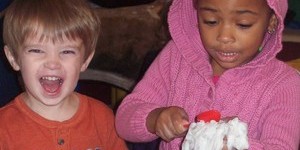 Learn more about how the highly trained teachers of La Petite Academy instill the critical-thinking, social and emotional skills every child needs to succeed in Kindergarten and beyond. All in a safe, nurturing environment.