Glendale, AZ Daycare
20195 N. 67th Ave, Glendale, AZ 85308
Welcome to La Petite Academy of Glendale, AZ!
I'd like to take this opportunity to personally welcome you to our wonderful La Petite Academy educational daycare in Glendale, AZ! My name is Marilyn and I am the academy director at this fantastic school. I have over 42 years of experience in early childhood education, something I am very proud of! Drawing from this experience, I can confidently say La Petite offers the best
infant daycare
and
private preschool
in Glendale, AZ.
I understand the importance of early education, being a parent to seven children myself. Our school provides a safe environment for children with a focus on learning. I enjoy personally interacting with all our families and staff on a daily basis.
Here at La Petite in Glendale, we are one big family. We provide the highest standards of learning in a nurturing environment, which helps every child who crosses our door feel special. Every day is a new experience. Through our active communication, my staff and I are able to provide the very best care to all of our families. We feel proud knowing we are the leaders in education as the beginning steps for each child's success.
Many of our teachers have been with us for over 12 years and we have a total of 211 years of early childhood experience between us. We love having parents and grandparents come in to share the day with their child and encourage participation throughout the year.
If you are looking for an education-driven daycare in Glendale, AZ, call La Petite Academy today to find out more about our fantastic school!
We are accredited by
To be accredited by a nationally recognized organization, a school must promote established "best practices" in the social, emotional, physical, language and cognitive development of children.
A Day In The Life Of Our Students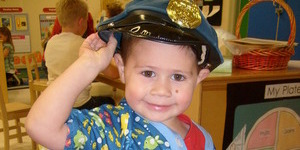 Learn more about how the highly trained teachers of La Petite Academy instill the critical-thinking, social and emotional skills every child needs to succeed in Kindergarten and beyond. All in a safe, nurturing environment.