Federal Way, WA Daycare
31906 So. 6th Ave., Federal Way, WA 98003
Welcome to La Petite Academy in Federal Way, WA
Welcome! My name is Kim Johnson and I am the Director here at La Petite Academy educational daycare and
preschool in Federal Way
, WA. I have worked with children for over 15 years as a daycare provider, a
preschool
and Pre-K teacher, as a program supervisor, and as an administrator. I have a Early Childhood Education and Development Certification and an Associate's degree in Administration with an emphasis in business/office management. I am a mother of three boys (benn the Soccer, Baseball, and Boy Scouts Mom!) and I have been an active WA State PTA member, volunteer for 18 years and WSPTSA Legislative Advocate.
In addition to providing superior
local infant care
,
our preschool program
options offer the best early education in the Federal Way community. I love the La Petite curriculum, Journey's, and the way they value early education with an emphasis on nurturing the "whole" child. We love kids and it's our passion to see them succeed. Here at La Petite, our goal is to give our students and their families the resources to do just that.
We are committed to providing the best service possible to our families. We are accredited through NACCP (National Accreditation Commission for Early Care and Education Programs). We are also a WA State Early Achievers Program participant. We strive to lay the foundation work for children to be lifelong learners and have fun doing it.
Please call or visit today to see for yourself why our La Petite educational daycare and
preschool
is the premier provider of early education and child care in Federal Way, WA - voted the "BEST in Federal Way" by local paper, The Mirror's readers.
We are accredited by
In August 2012 we became accredited by the National Accreditation Commission for Early Care and Education Programs (NAC). In 2013 we voluntarily started participating in the WA State Early Achievers program. We have been voted the BEST Preschool in Federal Way by the Mirror readers 2012/ 2013.
A Day In The Life Of Our Students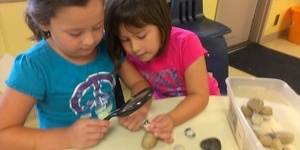 Learn more about how the highly trained teachers of La Petite Academy instill the critical-thinking, social and emotional skills every child needs to succeed in Kindergarten and beyond. All in a safe, nurturing environment.