Edmond, OK Daycare
1100 N Kelly Ave, Edmond, OK 73003
Welcome to La Petite Academy of Edmond,OK!
Thank you for visiting La Petite Academy educational daycare in Edmond, OK! My name is Melissa and I am the Academy Director. I have a CCP and a Director's Credential as well as 21 years experience as an early childhood teacher and manager.
Our school for
infant care
and
preschool
is nationally accredited by NECPA(National Early Childhood Program Accreditation).We received the award in December of 2011 and we continue to meet the standards of accreditation. The standards that we follow are higher than the State of Oklahoma's Child Daycare Licensing Standards.
I run this learning center like everyone is an extension of my own family - the children, parents and teachers. I strive to create a warm and welcoming environment and maintain an open-door policy for anyone who would like to talk. We plan a lot of events for everyone to participate in and I work hard to ensure that families meet each other and develop strong relationships as well.
I find it rewarding when I overhear a child telling their parent about their great day or when a parent is excited about seeing their child reach a milestone that we,parents and teachers, helped the child to reach. We are fortunate to have a great staff that is dedicated to our children and families. Our staff has a combined 80+ years of experience in early childhood, many of that being with La Petite Academy.
We value the relationships we have with our families and work hard to involve them. We offer a number of opportunities for our families who want to volunteer in the classroom,sharing their cultural background,work experience, and personal passions, such as reading, sewing, painting and other hobbies. We have many parent and family events, including Parents' Night Out and Family Game Night.
Schedule a tour of our fantastic child care in Edmond, Oklahoma today! We look forward to meeting you!
We are accredited by
To be accredited by a nationally recognized organization, a school must promote established "best practices" in the social, emotional, physical, language and cognitive development of children.
A Day In The Life Of Our Students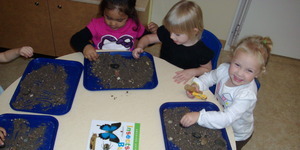 Learn more about how the highly trained teachers of La Petite Academy instill the critical-thinking, social and emotional skills every child needs to succeed in Kindergarten and beyond. All in a safe, nurturing environment.