Diamond Bar, CA Daycare
722 S. Grand, Diamond Bar, CA 91765
Welcome to La Petite in Diamond Bar, California
Thank you for visiting La Petite educational daycare and
preschool in Diamond Bar
, CA! My name is Kamal Gupta and I am the director of this school which includes programs for
infant care
,
preschool
, pre-K, and other age-specific options. I obtained my master's degree in education and finance in 1987. I began my career in child care 25 years ago. During those years, I have worked as a
preschool
teacher, assistant director and became Director in 2012.
My philosophy of early childhood education is that all children have the potential and curiosity for learning. They all have an interest in building relationships and constructing their own learning experiences. As an early childhood educator, I strive to focus on every child as a valued and unique individual. I believe in providing a safe, healthy and learning environment to prepare them for the next step of their life.
The first years of a child's life are a crucial development period. Children who are nurtured and stimulated during these years are much more prepared for formal reading and math. These children are also more likely to have the social skills they will need to succeed in elementary school. Every child will develop a lifelong love of learning at this academy.
The teachers and support staff of La Petite Academy in Diamond Bar take pride in helping children discover their love of learning. We believe children benefit from the close and personal relationship our teachers share. We treat all of the children and families at our center as extensions of our own family.
Please call or visit today to schedule a tour of our wonderful La Petite educational daycare in Diamond Bar, CA! We look forward to meeting your family.
We are accredited by
Our School is nationally accredited by NECPA (National Early Childhood Program Accreditation). We received the award in 2009 and we continue to meet the criteria of accreditation standards. The standards that we follow are higher than the California child daycare licensing standards.
To be accredited by a nationally recognized organization, a school must promote established "best practices" in the social, emotional, physical, language and cognitive development of children.
A Day In The Life Of Our Students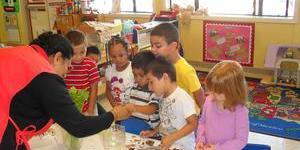 Learn more about how the highly trained teachers of La Petite Academy instill the critical-thinking, social and emotional skills every child needs to succeed in Kindergarten and beyond. All in a safe, nurturing environment.