Columbia, SC Daycare
7460 Garners Ferry Rd, Columbia, SC 29209
Welcome to La Petite Academy in Columbia, SC!
Welcome to our educational daycare in Columbia, South Carolina! My name is Dianne Joel, and I am the director of this prosperous school. I'd like to take this opportunity to tell you how the staff,
infant care
and
preschool programs
at our center are sure to exceed your expectations for an early education provider.
I bring 30 years of experience in early childhood and public school settings. I've spent 24 years at La Petite Academy and 19 as a director. I also have a bachelor's degree in physical education. Because we are family oriented learning center, I love to interact with the families at our school and in the Columbia community. I enjoy watching the progress through each of our classrooms, from
infant
to the after-school program. It makes my heart leap for joy when I see our children grow up and enroll their children at our school.
Our teachers here in Columbia pride themselves on the personal level of care and genuine concern for your child's education. We focus on what we can do better to meet you and your child's needs today. We have more than 75 years of teaching experience working for us. Three of our staff members have 20 or more years of experience and more than half of us have a degree certification in early childhood development. We have two staff members with a master's degree, several others with an ECD 101 childcare certificate. Our daycare is the first in Columbia, South Carolina to complete the SCPITC (South Carolina Program for Infants/Toddlers Care). A staff member is always on duty that is CPR/first aid certified.
If you are looking for the premiere education-driven child care in Columbia, SC, then call us today and schedule a tour! Your child deserves to have a bright beginning for a rewarding future.
A Day In The Life Of Our Students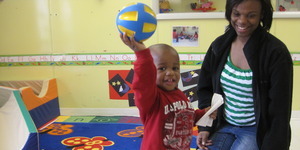 Learn more about how the highly trained teachers of La Petite Academy instill the critical-thinking, social and emotional skills every child needs to succeed in Kindergarten and beyond. All in a safe, nurturing environment.