Columbia, MD Daycare
8890 Columbia 100 Parkway, Columbia, MD 21045
Welcome To La Petite Academy of Columbia, MD!
As academy director, I'd like to personally welcome you to our wonderful La Petite Academy educational daycare and
preschool in Columbia
, MD. My name is Kim; I have a bachelor's degree in early childhood education with a minor in special education and have more than 10 years of experience in educating children. At La Petite Academy, our
infant child care
and
preschool programs
provide the perfect foundation for learning and child development.
Building relationships with families is an important goal of the school. We enjoy interacting with the children and their families with the belief that every child is special and unique. We believe in keeping our families informed, so we encourage parents to visit and help in the classrooms to see firsthand the education their youngsters are receiving.
Our staff knows they have been entrusted with the most precious part of any family, so the commitment to making all involved comfortable is strong. Our highly qualified teachers are continually honing their skills and are encouraged to participate in advanced training to keep abreast of advances in our field. Many have more than 10 years of experience here in Columbia.
We provide a nurturing environment that is conducive to learning and allows children to feel good about themselves. We believe each child is special and has a great capacity to learn.
I am confident we run one of the best programs in the Columbia area and our students are happy and safe. We have teachers who are truly dedicated to the safety and well-being of each and every child. I consider everyone at my school – the parents, children and teachers – part of a large extended family.
Schedule a tour today and learn why La Petite Academy is the best educational daycare in Columbia, MD, for your child!
A Day In The Life Of Our Students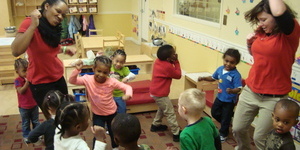 Learn more about how the highly trained teachers of La Petite Academy instill the critical-thinking, social and emotional skills every child needs to succeed in Kindergarten and beyond. All in a safe, nurturing environment.