Chesapeake, VA Daycare
2453 Taylor Rd, Chesapeake, VA 23321
Welcome to La Peitite Academy on Taylor Road
I'd like to take this opportunity to welcome you to our wonderful La Petite Acaedmy educational daycare in Chesapeake, VA. My name is Leigh Ann and I have served as the academy director here for 17 years. I have a degree in early childhood education and find this the most rewarding position I have ever had. In addition to providing superior
local infant care
,
our preschool programs
offer the best early education in the Chesapeake community.
Our school has a great reputation in the community and that is something we are very proud of! For more than 25 years, our daycare has been helping children in our Chesapeake community grow and develop in a safe and inviting environment. Many of our wonderful teachers have earned degrees in early childhood education and have been working with young children for a long time. Two of our teachers are bilingual, and enjoy teaching Spanish to the children on a daily basis.
We are a peanut-free school and do everything possible to keep children with allergies safe during school hours. All teachers are certified in CPR and first aid, and we have an outstanding cook who prepares meals and snacks for the children. Because safety is a top priority at our school, we also are equipped with an entry door security system. Only those who are authorized for pick-up are able to enter the building, and identification is always checked.
Schedule a tour of our fantastic La Petite Academy educational daycare in Chesapeake, VA today! We look forward to meeting your family.
We are accredited by
To be accredited by a nationally recognized organization, a school must promote established "best practices" in the social, emotional, physical, language and cognitive development of children.
A Day In The Life Of Our Students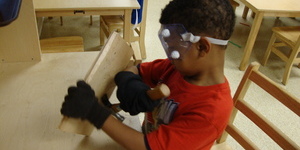 Learn more about how the highly trained teachers of La Petite Academy instill the critical-thinking, social and emotional skills every child needs to succeed in Kindergarten and beyond. All in a safe, nurturing environment.