Cary, NC Daycare
955 W Chatham Rd, Cary, NC 27511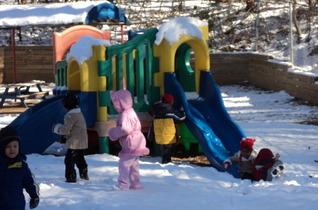 A Typical Day For A Child
Our school environment is clean, safe and well planned. We make a concerted effort to place all children in appropriate classrooms and provide activities and learning experiences that are specially designed for each child's needs and abilities. The child-sized furniture, equipment, sinks and toilets will help your child develop self-reliance in taking care of his or her personal needs.

Your child's learning experiences will be enriched by the toys and equipment we provide, such as blocks, computers, dolls, music items, games and books.

Children are encouraged to work and play together in small groups around the classroom. In our environment, you will see your child involved in meaningful and self-directed activities, as well as teacher-initiated instruction.

Throughout the day, children in our care will be served breakfast, lunch and an afternoon snack. Also, outdoor play (weather permitting) happens twice every day, which allows children to expend energy in productive ways. To refuel their bodies and minds for learning, the children will also have quiet time every day, during which they can nap or enjoy quiet activities.

A day at our school is anything but typical - every day is a fun adventure in learning!
Pre-Kindergarten Sample Schedule
6:30 a.m.
Welcoming children, health inspections, active Learning Centers, breakfast

9:30 a.m.
Morning Group Time - calendar, weather, reading, sight words

10:15 a.m.
Outside play and learning

11 a.m.
Transition inside, daily care routines

11:05 a.m.
Literacy Circle Time - journal writing, small groups and active Learning Centers

Noon
Daily care routines, lunch and getting ready for rest time

12:30 p.m.
Rest time

2:45 p.m.
Daily care routines, afternoon snack

3:10 p.m.
Afternoon Group Time - music and dance, active Learning Centers

3:45 p.m.
Outside play and learning

4:30 p.m.
Transition inside, daily care routines

5:20 p.m.
Active Learning Centers, parent pick-up time

6:30 p.m.
School closed


* During active learning time, the teacher is circulating throughout the room observing children and joining their play. They will periodically sit with a small group of children to complete a teacher-directed activity.

** Daily care routines include hand washing and toileting; routine care is also done as needed.