Cary, NC Daycare
955 W Chatham Rd, Cary, NC 27511
Welcome to La Petite Academy in Cary, NC
Welcome! My name is Latosha Hendricks, Acting Director. I have four children who have all attended La Petite Academy here in Cary, NC. I have been at this school for 10 years and I have grown in my knowledge of child development.
La Petite Academy is a great place where children can get the most in learning from ages six weeks to twelve years of age in one of our
infant care
or
preschool programs
. Our center strives to make sure that our children are safe at all times and we make sure this is the right place for them and their families. One of the most rewarding aspects of being an acting center director at this wonderful
preschool
is knowing each day I will have the opportunity to experience something different.
The teachers have many years of education and training. I strive to make sure that my teachers are up to date on monthly/yearly training and more importantly, I make sure they are lead-teacher certified. I want to make sure that our parents and families understand we do a full background check, fingerprinting, and TB testing. Our teachers are CPR and First Aid certified. We make sure that our teachers and children are safe and secure.
La Petite Academy, on 955 West Chatham Street, allows for family involvement while providing the utmost care for children. The teachers, along with myself, believe that childcare involves the whole family and should be an enjoyable experience for all. By showing our commitment to the children, we can join together to create one big community.
Please stop by and visit my school. Free feel to come and share your child's special moments with us. You will know you have found the perfect school for your family. Thank you for considering La Petite Academy child care in Cary, NC!
A Day In The Life Of Our Students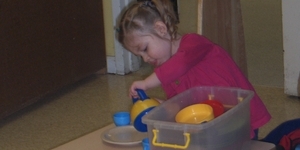 Learn more about how the highly trained teachers of La Petite Academy instill the critical-thinking, social and emotional skills every child needs to succeed in Kindergarten and beyond. All in a safe, nurturing environment.