Bradenton, FL Daycare
6919 53rd Ave E, Bradenton, FL 34203
Welcome to La Petite Academy of Bradenton, Florida!
Thank you for visiting La Petite Academy educational daycare in Bradenton, Florida. My name is Laurie James and I am the Academy Director. I have my early childhood and intervention certificate, and my child development degree. I am currently finishing my BS in early childhood at State College of Florida. I have been a director for La Petite Academy for 17 years and worked for the company since 1989.
At our school we strive to be like family. We welcome parents to come into our
infant care
and
preschool
classrooms and spend time with their children. We have an open door policy for currently enrolled families and encourage families to be active in our center. We are building a strong team here at La Petite and want you and your child to be a part of it.
The staff here in Bradenton have current first aid and CPR training, several staff have their early childhood degrees and the rest are in the process of acquiring them. All staff have monthly training sessions in a variety of topics and participate in Professional Development days yearly.
We participate in local events - the Children's Parade, Habitat for Humanity, collecting donations for Our Daily Bread, donations for the Humane Society, and area shelters. We have frequent visits for the children from our local dentists, fire department, police, child safety, wildlife rescue and even business professionals who come in to read to the children.
We truly enjoy every day at our La Petite and invite you to come in and give us a try! Please schedule your tour at our engaging child care in Bradenton, FL today.
A Day In The Life Of Our Students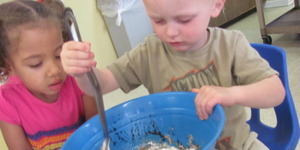 Learn more about how the highly trained teachers of La Petite Academy instill the critical-thinking, social and emotional skills every child needs to succeed in Kindergarten and beyond. All in a safe, nurturing environment.